We invite you to explore this sample menu:
Breakfast:
Sunshine parfait:
Utilizing local ingredients, and incorporating the color and vibrancy of breakfast fruits—in addition to the sustaining dietary fiber found in ancient grains like quinoa, this delicious parfait is chock-full of packed, long-sustaining fulfillment perfect for consumption before a long hike! The small portion size ensures that you won't be bogged down by a heavy meal, but rather enjoy the the protein, vitamin and nutrient-rich properties of the fruits and seeds inside.
---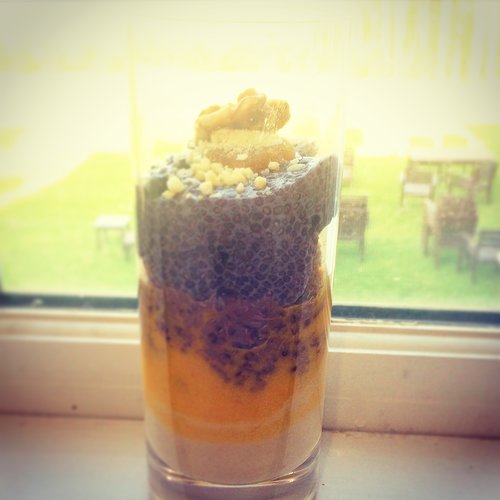 Lunch:
Artful arugula salad:
Salads are hugely fulfilling source of vitamins, and the raw vegetables ensure a long-sustaining and metabolic-encouraging digestive process. But they don't have to be boring! It's always delicious and palate-pleasing to combine crunchy veggies with par-cooked vegetables, sweet with salty, and tangy with savory. This small-but-mighty salad packs vitamins and proteins in raw greens with the benefits of purple berry anti-oxidants, along with the long-understood properties of sesame tamari. Topped with a house-made veggie burger that combines sprouted red rice (increasing the properties of dietary fiber and reducing digestive impediments), and beets.
---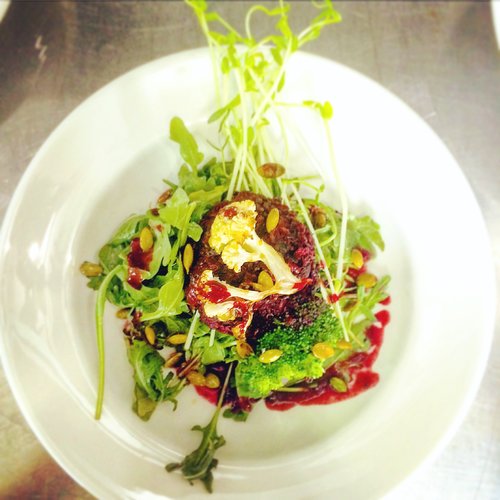 Dinner:
White bean Soulful Soup:
White beans are perhaps some of the best legumes to consume. Besides the inherent properties and proteins found in beans, white beans, in particular, when in combination with other carbohydrate sources, transform calories into energy instead of fat. This simple but effective method of food combination, ensures that calories are always consumed with purpose and implemented in our nutritional program so as to be most effective, and not simply fulfilling. Using the byproducts of other vegetables prepared during the week, we crafted house-made flatbread crackers made entirely of vegetables and gluten-free flour. Garnished with local tomatoes, providing a nice acidic variant agains the heartiness of the white bean, along with black sesame and local olive oil—this is a hearty, sustaining and nutritionally purposeful meal.
---